BERLINER LISTE 2011
TRAFO
Köpenicker Straße 59—73
10179 Berlin-Mitte
8. September bis 11. September 2011
Eröffnung: Mittwoch, den 7. September, 18:00 bis 23:00 Uhr,
First Choice für VIPs und Presse: Mittwoch, den 7. September, 15:00 Uhr
Seit 2004 unterstützt Gallery UNO den Austausch internationaler zeitgenössischer Kunst. Roland Kulla, USA, zeigt auf der Berliner Liste seine Faszination von Berliner Brücken, während Claus Hänsel, Deutschland, sich von der Chicago Skyline gefangen nehmen lässt. Chris Reilly, USA, der sich schon letztes Jahr für die Berliner Liste qualifizierte, zeigt sein Video 'Sunset'. Alle Aktivitäten der Gallery UNO sind auf www.artexhibitionlink.com dokumentiert.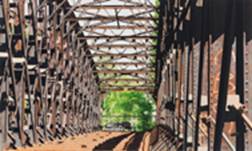 Roland Kulla: Liesenbrücke
Nachdem Roland Kulla die Brücken seiner Heimatstadt Chicago über Jahre studiert hatte, wandte er sich weiteren "bridge cities" zu und malte die ingenieurtechnischen Meisterleistungen in Boston, Pittsburgh und New York City. Berlin wartet mit rund 980 Brücken auf — tatsächlich sind es fast doppelt so viele wie in Venedig. Kulla wählte für seine scheinbar fotorealistischen Gemälde verschiedene Brücken aus: Die Liesenbrücke, eine Eisenbahnbrücke in eisernen Fachwerkkonstruktion, die 1896 fertiggestellt wurde und heute unter Denkmalschutz steht, die Tegeler Hafenbrücke, eine Fußgängerbrücke, die 1909 als stählerne Fachwerkbogenbrücke errichtet wurde, und den Siemenssteg, eine Bogenbrücke in Metallkonstruktion in Charlottenburg, die ebenfalls Fußgängern diente. Weiter sind die Swinemünder (die sogenannte Millionenbrücke), die Schulenburg- und die Bösebrücke in Berlin sowie die Glienicker Brücke in Potsdam und die Kornhaus-Brücke in Hamburg zu sehen. Kulla ist fasziniert von der strengen Logik des Metallfachwerks und hebt in seinen Gemälden die Konstruktionsdetails hervor, indem er Hintergrund und Kontext nahezu ausblendet. Er öffnet den Raum innerhalb des Tragwerks, den Weg über die Leere, die es zu überwinden gilt. Brücken gelten seit jeher als Symbol des Übergangs, der mit Respekt vor dem Brückenbauer sowie vor dem Nichts unter der Brücke geprägt war. Ein horizontaler Gang durch die Luft, durch den Himmel, der bei Kulla stets durch die Brückenstreben leuchtet. Um 90 Grad gedreht, wird der berühmte Stahlfachwerkturm des französischen Brückenbauers Gustave Eiffel, der 1889 in Paris fertiggestellt wurde, als aufgerichtete Brücke gewissermaßen zum Treppenhaus zum HimmelÖ
ROLAND KULLA, geboren 1947, schloß 1970 sein Studium an der Bellarmine University, Louisville, KY mit dem B. A. ab. 1976 erlangte er den M.A. an der School of Social Service Administration, University of Chicago, Chicago, IL. Malte, zeichnete und fotografierte er zunächst neben dem Beruf, widmet er sich seit 2002 ganz der Kunst. Seit 1994 nahm er an zahlreichen Ausstellungen teil, ab 1997 folgten Einzelausstellungen in den USA.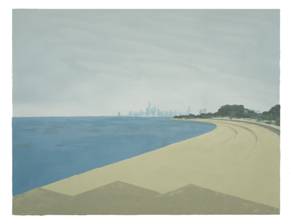 Claus Hänsel: Chicago Skyline, Oil, 2010
Kleinformatig, eine reduzierte Farbpalette, mehr Himmel als Skyline — Die quadratischen Gemälde von Claus Hänsel sind kleine Kabinettstücke von heiterer Leichtigkeit. Aus Untersicht dargestellt, richten sich die New Yorker Wolkenkratzer zu phallischen Gebilden auf, ihre Größe konterkariert durch die kleinformatige Bildfläche. Der ungewöhnliche Bildausschnitt erinnert an die ebenfalls kleinformatigen Gemälde des norwegischen Landschaftsmalers der Romantik Johann Christian Clausen Dahl, der Anfang des 19. Jahrhunderts in Dresden lebte und arbeitete. Seine skizzenhafte "Wolkenstudie zu Dresden" (um 1825) zeigt nur die Turmspitzen, die dem Himmel und seinen meteorologischen Prozessen freien Lauf und Raum lassen. In seinen neuen großformatigen Arbeiten ist die Skyline von Chicago von weitem zu sehen, sie erscheint wie eine Fata Morgana in der Ferne am Ende einer weiten Bucht mit breitem Sandstrand vor einem dichtbewölkten Himmel. Bei Hänsel hebt sich die Architektur — neben seiner Muse und Lebensgefährtin Christine Prinz die zweite Konstante in seinem Werk — wie flüchtige, anthropogene, streng nach statischen Maßgaben gestaltete Wolken von einem milchig-monochromen Himmel ab — und sind doch Bestandteil desselben.
CLAUS HÄNSEL, 1942 in Dresden geboren, studierte von 1959 bis 1962 Malerei, Grafik und Plastik an der Fakultät für Bildende Kunst Dresden und von 1962 bis 1968 an der Hochschule für Bildende Künste Dresden. Von 1968 bis 1970 folgte ein Aufbaustudium am Institut für Architektur und Baugebundene Kunst an der Kunsthochschule Berlin. 1984 reiste er aus der DDR aus, er lebt und arbeitet seit 1985 in Bremen.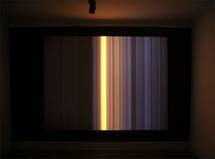 Chris Reilly: sunset/234,000, Videoinstallation, 2005
Chris Reillys Videoinstallation "sunset/234,000" basiert auf einer Fotografie eines Sonnenuntergangs. Innerhalb von zwölf Minuten spielt sich das ganze Farbspektakel auf dem Monitor ab. Von leuchtendem Gelb über Gluttöne und den Nuancen der Dämmerung bis zur absoluten Dunkelheit reichen die Farbtöne, die Reilly in vertikalen Streifen mithilfe eines Videofilters generiert und auf die Dauer eines durchschnittlichen Sonnenuntergangs ausgedehnt hat. Der Titel bezieht sich dabei auf den Faktor der Dehnung. Durch die Drehung um 90 Grad gewinnt das tägliche Ereignis eine neue überraschende Qualität: Der gewohnte Übergang von Licht zu Dunkel, der sich in der Natur in horizontalen Farbschichten vollzieht, wird von der Melancholie des Sinkens, des Verschwindens der Lichtquelle, des Untergangs befreit, die seit der Romantik die Erwartung der Nacht mit Beklemmung erfüllt hatte. Die Betrachtung der Erhabenheit der Natur schüchterte den Menschen ein und ließ ihn seine Bedeutungslosigkeit schmerzlich spüren. Reilly greift aktiv in das Schauspiel ein, hebt durch die Drehung in die Vertikale die Welt aus den Angeln und befreit uns dadurch von vertrauten Vorstellungen. Er lädt dazu ein, sich dem Farbenspiel hinzugeben und es zu genießen.
CHRIS REILLY schloß 2006 sein B.F.A. mit Schwerpunkt auf Neuen Medien an The School of the Art Institute of Chicago ab. Zurzeit arbeitet er als Manager bei SAICís Advanced Outptut Center und unterrichtet dort halbtags die Fächer Film/Video/New Media. Seit 2003 wurden seine Arbeiten in zahlreichen Gruppen- und Einzelausstellungen in den USA und Europa gezeigt. Chris Reilly lebt und arbeitet in Chicago.
---
BERLINER LISTE 2011
TRAFO
Köpenicker Straße 59—73
10179 Berlin-Mitte

September 8th - September 11th, 2011
Opening: September 7th (Wednesday), 6pm to 11pm
First Choice: September 7th (Wednesday), 3pm

Since 2004 Gallery UNO is dedicated to an active exchange of international contemporary art. At Berliner Liste, Roland Kullla, USA, shows his fascination with Berliner bridges whilst Claus Hansel, Germany, pays homage to Chicago's skyline. Chris Reilly, USA, who qualified already last year for Berliner Liste, shows his video 'Sunset'. All activities of Gallery UNO are documented on www.artexhibitionlink.com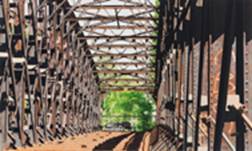 Roland Kulla: Liesenbrücke
After having studied the bridges of his hometown Chicago for years first, Roland Kulla turned to other "bridge cities" and painted the masterpieces of engineering ingenuity in Boston, New York City and Pittsburgh. Berlin counts approximately 980 bridges — nearly twice the number of Venice. For his almost photorealistic paintings Kulla chose several German bridges. Three of the Berlin bridges are: The Liesenbrücke, an iron railway bridge with trussed construction built in 1896, the Tegeler Hafenbrücke, a steel trussed arch bridge for pedestrian finished in 1909, and the Siemenssteg, also a pedestrian arch bridge located in Berlin- Charlottenburg. Also included in the exhibit are the Swinemunder ("Millionen"), Schulenburg, and Bosebrucke in Berlin, the Glienecke in Potsdam and the Kornhaus in Hamburg. Kulla is fascinated by the rigidly patterned logic of the metal structures. He selects certain design elements and eliminates background context in order to emphasize form. Kulla opens the space between the structural system, a path above the empty space. Bridges are seen as symbols of transition ever since. People had respect both for the bridge builder and the void beneath them. Passing a bridge means to have a walk through the sky which always shines through the metal structures in Kullaís paintings. By the way: In 1889 French bridge builder Gustave Eiffel rotated his trussed steel construction and thus erected the famous tower in Paris, a staircase to heaven...
ROLAND KULLA, born 1947, received his B.A. from the Bellarmine University, Louisville, KY in 1970 and his M.A. from the School of Social Service Administration, University of Chicago, Chicago, IL in 1976. For many years he painted and drew part-time, until 2002. Since 1994 his works were shown in many group exhibitions all over the US, several solo exhibitions followed since 1997.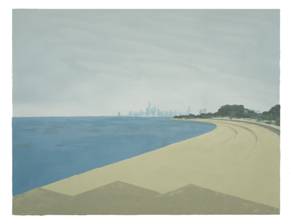 Claus Hänsel: Chicago Skyline, Oil, 2010
Small format, a reduced range of colors, more sky than skyline — Claus Hänselís square paintings are bright little cabinet pieces. Painted from a low angle perspective the skyscrapers emerge like phallic structures; their elevation foiled by the small format scale of the canvas. The stunning and extraordinary picture detail reminds of a small romantic image painted by Norwegian landscape painter Johann Christian Clausen Dahl who lived in Dresden at the beginning of the 19th century. His sketchy "Cloud Study at Dresden" (approx. 1825) only shows the rooftop of the buildings. The sky with its meteorological processes has plenty of place to unfold. In his new large-sized paintings the skyline of Chicago appears like a mirage at the end of a wide bay with broad sandy beach under a gloomy sky. But in Hänselís paintings the architectural structures — architecture being the second constant beside of his muse Christine Prinz — appear like elusive man-made clouds obeying rigid patterns of construction. They emerge from a milky background and are yet an integral component of the surrounding sky.
CLAUS HÄNSEL, born 1942, Dresden, studied Painting, Graphic and Plastic Arts at the Fakultät für Bildende Kunst Dresden from 1959 until 1962 and at the Hochschule für Bildende Künste Dresden from 1962 until 1968. From 1968 until 1970 postgradute studies at the Institut für Architektur und Baugebundene Kunst, Kunsthochschule Berlin, followed. In 1984 Hänsel left the GDR, since 1985 he works and lives in Bremen.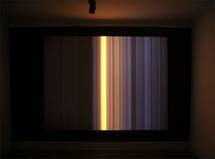 Chris Reilly: sunset/234,000, Videoinstallation, 2005
The source of Chris Reillyís video installation "sunset/234,000" is a still photograph of a sunset. Within 12 minutes the splendid color spectacle of the daily event develops. Beaming yellow, flaming red and all the shades of dawn incline little by little to absolute darkness in a vertical band of color. A custom video filter vertically expands the image to form a sequence which mimics the progression of an actual sunset. The title refers to the factor by which the original still is stretched. Through the rotation of the image by 90 degrees an ordinary sunset reveals a surprising facet: The transition from daylight to night which usually proceeds in horizontal layers is freed from any melancholic notion of decline, sinking and loss attributed to sunset and crepuscule since Romanticism. In front of the overwhelming natural spectacles man felt insignificant and timid. Reilly interferes and unhinges the world as we know it. With the 90 degree rotation he frees us from long-established conviction and invites us to enjoy the amazing play of color.
CHRIS REILLY received his BFA with a focus on New Media from The School of the Art Institute of Chicago, Chicago, IL in 2006. He is currently employed as manager of SAICís Advanced Outptut Center, and a part-time faculty member teaching between SAICís Design and Film/Video/New Media departments. Since 2003 Chris Reilly has shown work in several solo and group art exhibitions in the US and Europe. Chris Reilly lives and works in Chicago.